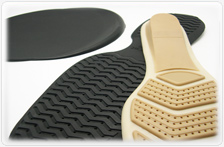 Elastomer modified TPUs, reaching excellent mechanical characteristics and an optimal abrasion resistance. The products are defined by an improved processability, can be used in any thermoplastic injection moulding machine and are compatible with the majority of polyurethanic bases.

Economical eco-friendly grades, obtained from high quality polyethers reprocessing, are available.



All FlexLine products are injection mouldable, extrudable and completely recyclable inside the production process.


In conformity with RoHS standards, do not contain phtalates or PVC.













MSDS