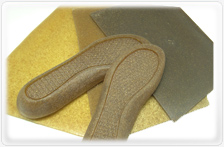 Biopren is a line of thermoplastics and thermosets with no additives or PLA derivatives, prepared (until 95%) with rubbers or bio-based materials.
Many "biological"products available nowadays on the market are chemically additivated materials, this results, over time, in a structural degradation with subsequent environmental release of the monomers, or in a simple size reduction.
Others, coming from "renewable sources", are biodegradable but require an expensive process and an extremely high wastage of natural resources.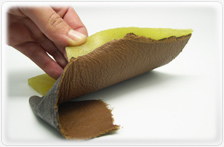 Biopren cuts down on consumption, creating an economic product which combines reasonable mechanical properties with a winning costs to environmetal impact ratio.
Biopren can be injection moulded or compressed with the traditional machinery, both in its thermoplastic and vulcanised form.






All Biopren materials can be mixed with food processing colorants, wood, cork and other bio-based products.






The application fields are normally limited to footwear and disposable or short life products.