TERVAN is a line of elastomer-modified polyolefins, designed to obtain high tech specifications in expanded EVA products, in direct competition with the normal two components PU.
TERVAN products can be used alone or mixed with common grade EVA, and guarantee the best costs/performance relationship, without altering additives, machinery or processing way.
Final user can enhance the spec of the cross-linking EVA compounds adding until 10% of TERVAN, without having sensible modifications of expansion rate or production time.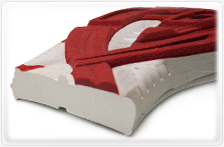 The high MFI makes it suited for direct injection or over moulding, can be joined with a wide range of polyolefins, improving abrasion resistance, weight and flexibility of the end product.

TERVAN sensibly improves the skip resistance and the rubber feeling related to the presence of ethylene bases.
The choice of cross-linkers and other additives can modify the related performance.


TERVAN respect the RoHs European and American requirement, doesn't contain phthalates, amines or heavy metals and is PVC free.
In thermoplastic form TERVAN is totally recyclable, cross-linked scraps can be ultrasound treated or reused, in low quantities, in the process without sensibly affecting the performance.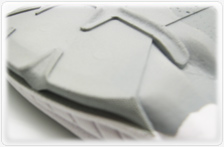 CARACHTERISTICS:
› Easy Dispersion and high MFI
› Easy to process at low temperature
› Low Density
› High Abrasion Resistance
› High Tensile
› High Tear and Elongation Strength
› High flexibility
› Good Low Temperature resistance
Grades specifically designed to give a particularly soft touch feeling are available.

Sports Footwear: TERVAN has the highest mechanical and chemical specifications, to satisfy the top international requirement of lightness and comfort.
Industrial Applications: TERVAN blends, with good abrasion and low temperature resistance, can be widely used as resin modifier and in all applications that normally employ cross-linking EVA, or foaming PU, with high end performances and finishing results.
Nautical sector, Safety and Insulation are only some of the possible applications areas.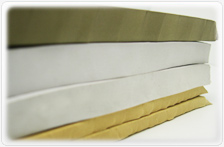 WHY TERVAN

Cost saving: When compared with normal bases, used in EVA compounding or sheets production, TERVAN cuts off up to 50% in preparation and processing times, producing higher precision levels and constant final results. TERVAN consents to maximize the results of high level productions and to improve the specifications of the low level products, all at a reduced price.

Tech results: The unique performances reached on mechanical specifications are unachievable with common EVA.
Processing: TERVAN can be glued with specific adhesives to all conventional materials and colored according to normal procedures.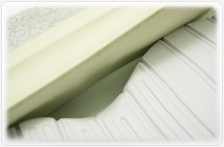 TERVAN grades can be post-formed whenever a higher dimensional stability is required. The injection process is similar to the one used for established thermoplastic materials:
a) Over molding injection temperature below 170°C
b) When used as resin modifier must be processed below 195°C


c) In cross linking systems, alone or with EVA, TERVAN is injected into thermo-regulated moulds at a temperature range of 170 - 185°C where, after about 5 or 6 minutes, the cross-linking process takes place. The volume of the item can expand up to five times from the volume of the original mould, the increase across the three dimensions can reach up to1.8 linear expansion.
Most moulding machines available on the market can adapt to these specifications.
Assistance: Our technical assistance department is at your disposal for any information on the use or choice of the correct grade that suits your needs.
Specific requirement demanding customized solutions can be evaluated.
Packaging: Available in 20 kg standard paper bags or customized packaging, available upon request and at prearranged quantities in EVA processable bags.




MSDS